Scrum Master Training for employees of charitable NPOs
Scrum and NPOs
Scrum was originally created in the context of software development. It quickly spread to other types of product development and is nowadays used to organize all kinds of complex work.
Do you work under changing conditions where the need to adapt occurs frequently? Scrum can help you organize your work so that adapting to changes is possible without causing extra stress.
Scrum and other agile methodologies rely on the intrinsic motivation of people to contribute. As people in charitable NPOs tend to have a high degree of intrinsic motivation for their work, agile methodologies are also a perfect fit from this perspective.
Our original background is in software and product development, however:
Since 2015 we have given pro bono trainings for different audiences, including employees of NGOs, refugees and students.
Employees of the Berlin based NPO "Stiftung Bürgermut" attended one of our trainings and decided to implement Scrum in their organisation. One of our trainers, Anton Skornyakov, continued working with them, which included a Scrum Assessment that was conducted then months after the initial training:
Learnings about introducing and using Scrum at Stiftung Bürgermut are documented in this whitepaper (in German).
As described in the whitepaper, Scrum can be immensely useful for NPOs, but it is typically not obvious how exactly this can be applied.
Content and Focus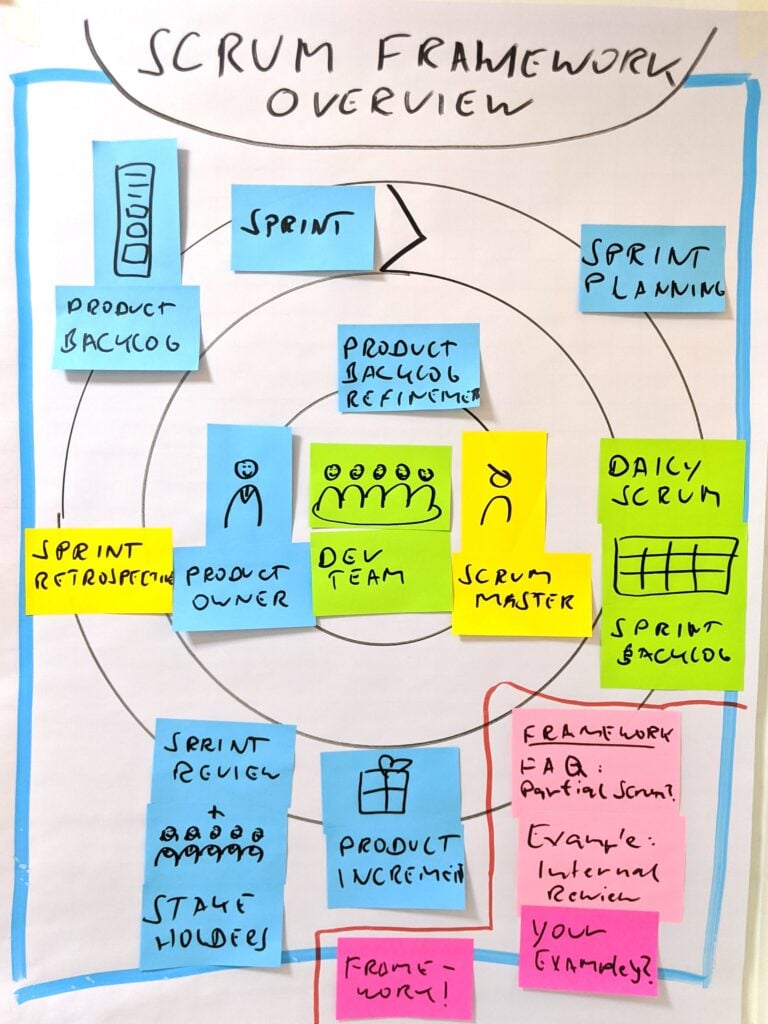 In this Scrum Master Training, you will achieve a deep understanding of the Scrum Framework.
All aspects of Scrum are considered from the perspective of the Scrum Master role and related to the four core competencies of the Scrum Master
Teaching
Facilitation
Mentoring and
Coaching
We discuss foundations, roles, events and artifacts as well as the values and principles and systematically elaborate all connections.
Then we will go on to more advanced topics about supporting Team, Product Owner and Organisation using the core competencies.
This training was created based on the Scrum Foundations and CSM Learning Objectives.
No Consulting in this training
Please be aware the training offerend on this page does not include detailed work on all questions resulting form each of the specific contexts of each of the participants.
More specifically, we are not going to try to solve everybody's problems:
Scrum can be considered a self-coaching framework for teams, so the understanding of Scrum gained from this training will be helpful in reflecting and improving your own processes. On the afternoon of day two we can discuss some of your scenarios as examples, but the main focus of this training is on learning Scrum.
Timeframe
Training times will be:
Monday 28.9.2020 9:00-17:00 TZ Berlin / CEST
Tuesday 29.9.2020 9:00-17:00 TZ Berlin / CEST
Breaks:
Lunch break: 13:00-14:00 TZ Berlin / CEST
Many shorter breaks (5-10 min) approximately every hour
Live Online Training
This is a Live Online Training, for a small group, that means:
live interaction with trainer and other participants
no pre-recorded material
Due to the current COVID-19 pandemic we have given many Live Online Trainings this year. Some of our experiences are documented here.
This training will be conduced using the video conference software Zoom. You will need:
fast and stable internet connection

web camera

headset
two screens if possible
environment with very little background noise where you can talk a lot without disturbing anyone
standard offline writing material, e.g. pen, felt pen, sticky notes and paper (A4 / letter)
We will use Miro as white board tool and Trello for visualising the Training Backlog.
We have found out that trainings can be more lively when we do not only use electronic tools, therefore:
I will give some explanations using a flip chart in front of a HD web camera. And:
Participants will be asked to make some notes on paper or sticky notes. In some cases we will ask you to note some ideas and then show them camera. For these interactions you need a felt pen, sticky notes and several sheets of white paper (A4 / letter size).
I've given Scrum Trainings since 2015, but I'm also still learning and improving. In particular, I have an exam coming up that includes a simulation training. Therefore I'm also not just using established materials, but I'm looking forward to trying out some new ideas. Don't expect every input to be an established routine.
Language
This training will be conducted in English. Most Material is available in German as well and the trainer speaks German, too, but please only apply if you speak English well enough to profit from two intense working days together where we will speak English 99 % of the time.
Self check to guide your preparation
Please download and fill in the document Self-Check.doc. Feel free to write on screen or pen on paper, but keep in mind that you will need to send this via email as part of the application process, so any handwriting needs to be legible in your scan. Please also have your completed self-check ready for the training. If there are any questions left unanswered, this will provide orientation as to which other aspects we should cover together if necessary.
Depending on how much previous knowledge you have, you will benefit from investing 4 or more hours into your preparation.
As you fill in the self check, research using the material mentioned below as necessary. This ensures that you do not spend too little or too much time preparing.
Material for preparation
The Scrum Guide is the official Scrum definition and useful for a quick overview of the essential terms (available in English, German and other languages). Those who would like to take the certification exam later need to know the English Scrum Guide inside out. If you invest time here before the training, all of us will benefit from this in the training already.
The Scrumprimer is a document that speaks more practically about Scrum (available in English, German and other languages)
The Scrum Alliance's Scrum eLearning series is available as videos (available in English), Videos 1-5 are particularly important.
Berlin based NPO "Stiftung Bürgermut" introdued Scrum after attending a training of Agile.Coach GmbH & Co KG, their learnings are documented in detail in this whitepaper (in German)
In this article we explain Scrum using a non-technical example, i.e. the work of team and manager in the area of sales. The classic approach to delegation is contrasted with self-organization in sales (similar to Scrum) and there are hints for the transition: Scrum is about Delegation (in German)
We have written a detailed blog post about the role of the Scrum Master. Here you can find a short video about why a Scrum Master is needed. You will also find the most important skills and tasks of a Scrum Master with example situations: The Scrum Master Role in Detail (in German)
Trainer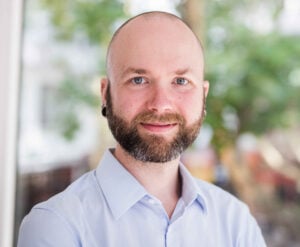 Dr. Timon Fiddike helps organizations create lively work environments where people live their potential and continuously improve their common effectiveness and adaptability. Timon's experience is that Scrum can make a huge contribution to making organizations more humane and at the same time more successful.
Certified Scrum Professional®, Large Scale Scrum Practitoner®, CSM®, CSPO®, PSM I®, PSPO I®, Ph.D. in Computer Science, Integral Coach – Training recognized according to ICF ACTH standard
Many years of experience as a team member, Scrum Master, Product Owner, coach and trainer
Experience in leading distributed teams as a Scrum Master
Experience as a manager in a DAX company and as CEO of a start-up
Using Scrum in environments with 15+ teams
Special interest: Agile Leadership, Integral coaching with individuals and teams
His clients include well-known companies and organizations as well as their managing directors, executives and development teams, see our references.
intensively deals with the practice of Scrum and agility in large organizations with many teams
Timon is one of the few Scrum Trainers who have completed a coaching training accredited by the ICF
Free, but we charge a deposit
Offering our various pro bono trainings (see top of the page) we learned that if something is completely free, some people do not take it seriously.
In two cases we had people not showing up without informing us about it. In consequence, we could not even invite anyone form the waiting list and the opportunity was lost.
For this training I try something new to improve on these aspects:
This training is free, but we will charge and refund a deposit:
When you book this training, we will send you an invoice (50 € including 16 % German VAT)
Your booking is considered binding when the invoice has been payed
After the training we will refund the whole sum (50 € including 16 % German VAT)
If somebody does not show up, their deposit is donated to Bund für Umwelt und Naturschutz Deutschland e.V. (BUND) – Friends of the Earth Germany
How to apply
We have enabled the waiting list on September 10th. At this point in time, all places in the training are reserved. However, there is a chance that somebody will not submit their self check and deposit. Also somebody might become ill or have a different reason not to take part. If you are going to be able to jump in at the last minute, please fill out the application.
This is a bit complicated, sorry about that. We used to have a quick and easy process, but due to our different experiences with pro bono trainings I decided to try this new way (see section Free, but we charge a deposit for background information). At this point I prefer to have a small group, e.g. five people, who are really committed to learning, over a large group where many don't really care.
Please read this page carefully and decide if this is the right training for you at this point in time:
This is really meant for future Scrum Masters or people who at least want to gain a deep understanding of Scrum from the perspective of the Scrum Master role, even if it may be difficult to implement in your current working environment.
Form: Only applications via the form on this website will be considered. Please include a couple of lines about your motivation for applying and mention your current level of knowledge. Anything is O.K., but I'd like to know.
Self-check: The first 10 people who submit a compelling application will be asked to fill in the self check document. At this point in time your place in the training is guaranteed (on the condition that you fill in the self check within 7 days). Your answers to the self check questions do not need to be complete or perfect. When you filled in at least 3/4 of the questions we will know that you are well prepared and we will have a productive 2 days together.
Deposit: At this point we will send you an invoice for the deposit, see section Free, but we charge a deposit above. At this point in time your place in the training is guaranteed, on the condition that we receive the deposit within 7 days.