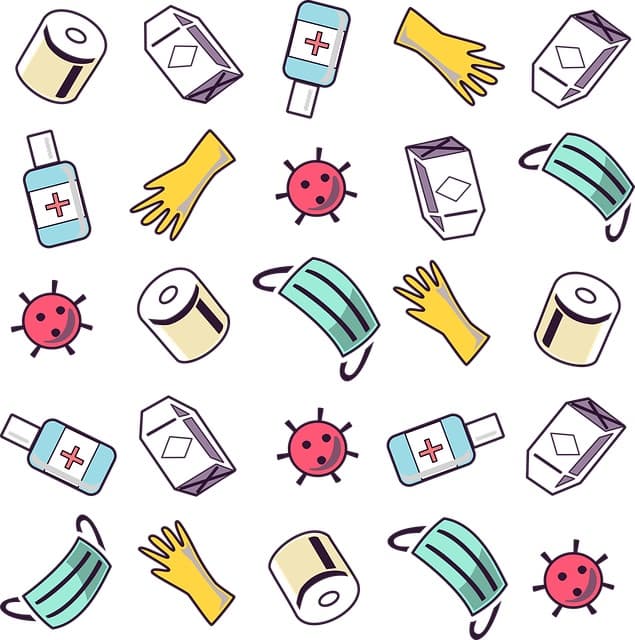 Face-to-face Training with protective measures and Live Online Training
Since 1.6.2020 many federal states allow in-house trainings to be conducted as face-to-face trainings again! Of course we continue to offer Live Online Trainings as well. For existing appointments, we can also adjust the implementation type at short notice as required.
Special Features of our Scrum Trainings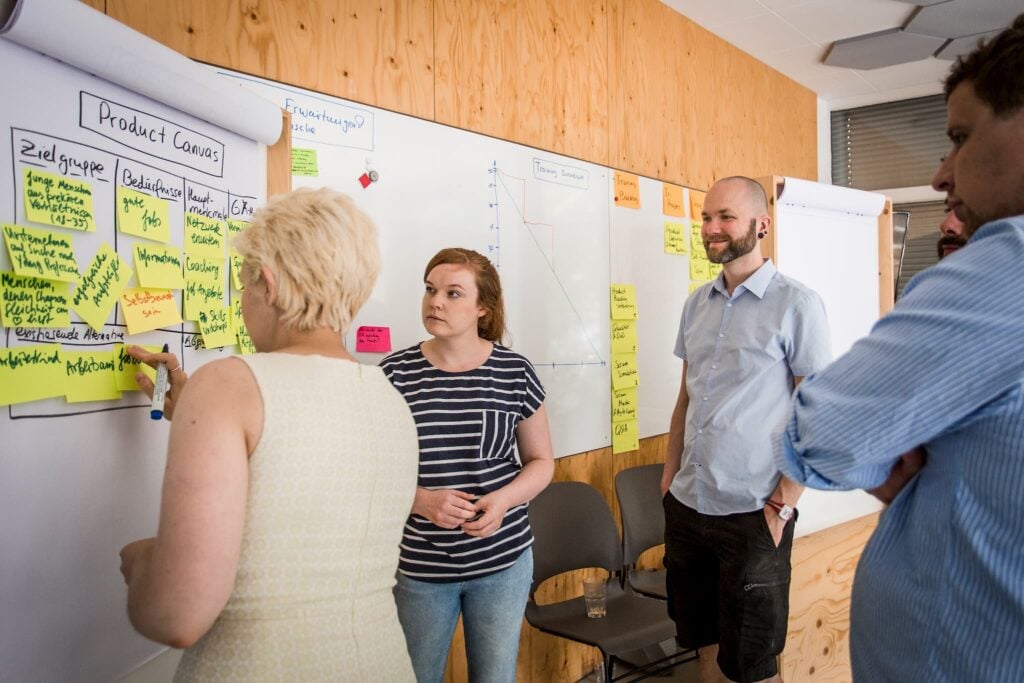 Interactive & hands-on learning, no PowerPoint
We use many principles and practices of "Training from the Back of the Room" (Sharon Bowman) that fit very well with agile approaches
You will be in motion a lot and learn actively

We use Scrum to teach Scrum

Instead of a rigid agenda, we use a flexible backlog of topics
We plan your most important topics every half day
Direct application to the context of your company (if certification is desired at the same time, please schedule a total of three days)
Presence training with protective measures due to COVID-19
Since 1.6.2020 many federal states allow in-house trainings to be conducted as face-to-face trainings again! Of course we continue to offer Live Online Trainings as well.
While some corporate customers were happy to switch to Live Online Training, others preferred to wait until presence training was permitted again. Just in time for the relaxation of the regulations, we were therefore able to carry out three face-to-face training sessions right at the beginning of June 2020.
Hygiene measures are of course particularly important in these cases:
Distance: A large room allows all participants to sit with enough distance to each other to avoid needing a mask in their own place.
Masks: Of course, we continue to attach importance to exchanges between participants and interactive exercises, masks make this possible.
Disinfection: Disinfection of the hands should be possible at any moment, dispensers for disinfectants in sufficient number save time.
The protective measures are described in more detail on our checklist room and material.
Live Online Training: Permanently established as an option
Of course, we continue to offer our proven Live Online Trainings!
In March and April 2020 we conducted our trainings as Live Online trainings. This was unusual for everyone involved at first, but ultimately worked well. At the end of the trainings, the participants were very satisfied with what they learned in terms of content. In addition, they have learned a number of new methods and tools that make digital collaboration easier for distributed teams in the long term.
We have conducted both open trainings and "in-house" trainings (for groups of one corporate customer each) online.
Our experiences from the open trainings are described here.
"In-house" trainings have been carried out in a very similar way, but at the request of our customers we used Miro as a digital white board tool instead of Mural: Miro was already in use in the customer companies, so that the employees benefited from the engagement with this tool in addition to the actual training contents in the long term.
Contact us and let us know if you prefer face-to-face training (with protective measures) or live online training!
Focus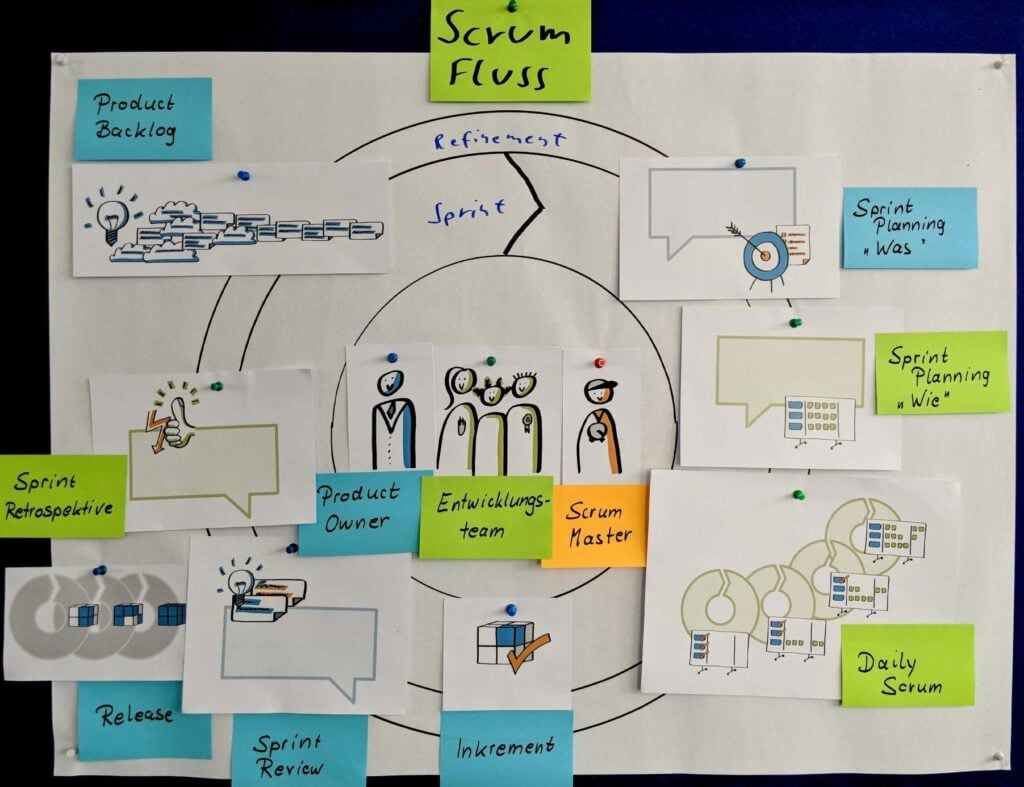 In this Scrum Training, you will achieve a deep understanding of the scrum framework.
We discuss roles, events and artifacts as well as the values and principles and systematically elaborate all connections.
Areas for going deeper
Scrum Master role, optional PSM certification
Product Owner role, optional PSPO certification
Team role, e.g. for directly introducing Scrum
Agile Coach Role, Organizational Development
Application to you own company
At the beginning, the backlog contains the topics preselected by the trainer according to the selected focus. The participants then identify other topics, include them in the backlog and order them.
Our sprints are half a day long. For each half-day, we plan the topics that are most important to the group.
Scope: 2 or 3 days
Let us know which goals you want to achieve with this training!
The main goal of our Scrum Trainings is often that the principles of agile work & roles are not only understood, but also internalized, so that each participant can grow better in his or her role. Special questions concerning your company will also be dealt with, if desired.
In addition, certifications can be obtained depending on the desired focus:
The Professional Scrum Master certification, PSM and Professional Scrum Product Owner, PSPO of Scrum.org require going deep into Scrum and the respective role.
Within two days, we can handle the topics necessary for the certification well, provided that the participants take 2 – 4 hours beforehand to prepare with the material provided by us.
A challenge may arise when many additional topics are requested by the participants, so that we are no longer able to work through all topics. This often triggers stress in participants. It is then necessary to decide together on the focus and depth of the topics in order to find the right balance for the participants.
In three days we have enough time to work towards the above mentioned main goal and also to cover all topics for certification well.
Trainer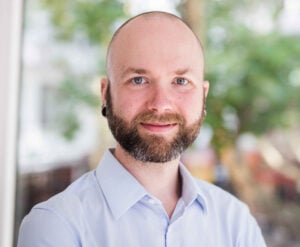 Dr. Timon Fiddike helps organizations create lively work environments where people live their potential and continuously improve their common effectiveness and adaptability. Timon's experience is that Scrum can make a huge contribution to making organizations more humane and at the same time more successful.
Certified Scrum Professional®, Large Scale Scrum Practitoner®, CSM®, CSPO®, PSM I®, PSPO I®, Ph.D. in Computer Science, Integral Coach – Training recognized according to ICF ACTH standard
Many years of experience as a team member, Scrum Master, Product Owner, coach and trainer
Experience in leading distributed teams as a Scrum Master
Experience as a manager in a DAX company and as CEO of a start-up
Using Scrum in environments with 15+ teams
Special interest: Agile Leadership, Integral coaching with individuals and teams
His clients include well-known companies and organizations as well as their managing directors, executives and development teams, see our references.
intensively deals with the practice of Scrum and agility in large organizations with many teams
Timon is one of the few Scrum Trainers who have completed a coaching training accredited by th ICF
Preconditions
When selecting and preparing the room, please refer to our checklist room and materials.
Two to four weeks before the Scrum Training we send you material for the participants to prepare themselves.
We invite the participants to familiarize themselves with the essential Scrum terms with the help of this material.
In this way, we can achieve even more as we work together.
For whom this is not intented
The in-house trainings described here are aimed at groups and teams within organizations. As an individual, you can register for our open CSM and CSPO trainings at any time.
If you want in-house training as a group or team within a company (or other organization), continue reading this page. We will be happy to make you an offer.
For whom this is intended
I used to work mainly with teams who wanted to develop software using Scrum immediately after the training.
At the moment I give trainings in a wide variety of industries, ranging from automotive suppliers to makers of health-care equipment.
The composition of the groups is also changing. Scrum Masters, Product Owners and other leaders are still in the majority.
Management consultants, HR mangers and members of work councils also take part in our trainings these days.
Certification
After our in-house trainings, the respective certifications can be obtained, i.e.:
Scrum Masters can take the Professional Scrum Master I exam, or PSM I for short.
Product Owners take the exam for Professional Scrum Product Owner I, or PSPO I for short.
The cost of this is listed in the "Prices" section.
Optionally, we also offer in-house training for the acquisition of the CSM and CSPO certifications of the ScrumAlliance; there are no separate examination fees, but the prices for the trainings themselves are significantly higher than the prices mentioned in the next section.
If you would like to learn more about the different certification options, please contact us and we will be happy to advise you.
Request a quote
We will be happy to make you an offer! Please let us know the following key information:
Focus of the training, e.g. Scrum Master, Product Owner, new Scrum Team, Agile Coach
desired venue (for face-to-face training with protective measures) or Live Online Training
Number of participants
Number of days
If you have any questions, please contact us directly by phone or e-mail: